Hopefully you recognize the reference in the title.
But really, the days are packed! This weekend was no exception. After work I took out 4 bushes from behind the house. They were seriously taking over the place. When that was finished, I had a pile out front 10 feet long, 3 foot deep, and as tall as me in the middle. These bushes were huge!
After that, I picked up dad's Red Velvet Ice Cream Cake from Brusters, then ran it over to mom and dad's to store until Saturday.
Saturday I was up bright and early, painting dad's new storage building. We finished that up around noon, and then it was on to Grilling duties! Burgers, hot dogs, and shrimp! We spent the rest of the afternoon with Dad. We always seem to celebrate our holidays the Saturday before the event.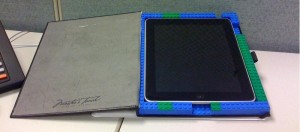 Finally, Sunday, after Church, lunch with the missus and some shopping at Ikea, I built a lego holder for my new iPad, styled after the dodo case.Then, I  put up a bluebird house at the mother-in-law's place, where I got into something that had me broken out in hives within minutes!! So, pink, puffy, and tired, I dropped two Benadryl and called it a weekend!
Whew, the days are seriously packed! I hope you enjoyed your weekend! Tell me all about it!