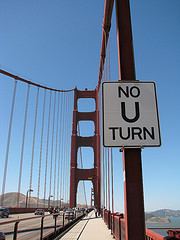 Well I did it!  As of this morning I've submitted my session "The Career Your Career Could Smell Like."  I've been working on this one for a while now.  Usually I would just take time one on one to help fix a resume, or to give some advice on interviewing.  But I've decided it's time to kick it up a notch.
I want to help more people.
As I mentioned, I just started a new job.  Within just a few days someone mentioned how there were several interviews before me, and they all were poor.  They also revealed there were many more resumes that had been submitted for the role.
I started asking questions.  What was bad about their interviews.  What was bad about their resumes.  They were happy to share.  I was happy to listen.  I wrote down as many notes as I could, I even was able to collect their resumes.  I'll be able to use a few of them as examples.  (I'm definitely removing the identities to protect the innocent.
Some of the mistakes on the resume were pretty simple.  When you're applying for a DBA role, you don't need to mention what types of laptop you used.  You don't have to list the versions of office you know.  But you can also omit certain critical pieces of information.  When you say you've installed instances of SQL Server, what versions?  What editions?
And then there were the interviews.  Some of the comments I got concerned their confidence.  Some were overwhelmed by the whole process.  Others made it seem like the interview process was boring and a formality.  The trick is finding a balance between these extremes.  You have to be confident in what you bring to the table.  You have to know your strengths.  You also have to know how to handle it when they tell you they need someone who can do more than you.  But never make it seem like the interview is trivial.
Your interviewer(s) will take that personally.
You've got to be friendly.
There are some more hints and suggestions the interviewing team made, and I'm adding them to my speaking notes for my session.  I really can't wait to share this all with you!  If you're interested in a sneak peak (and are willing to provide creative criticism), I'm looking for a crowd to beta this with.  Are you interested?